What if infrastructure as code was just a library?
Build custom cloud tools, frameworks, self-serve portals, and more, right from your favorite programming language.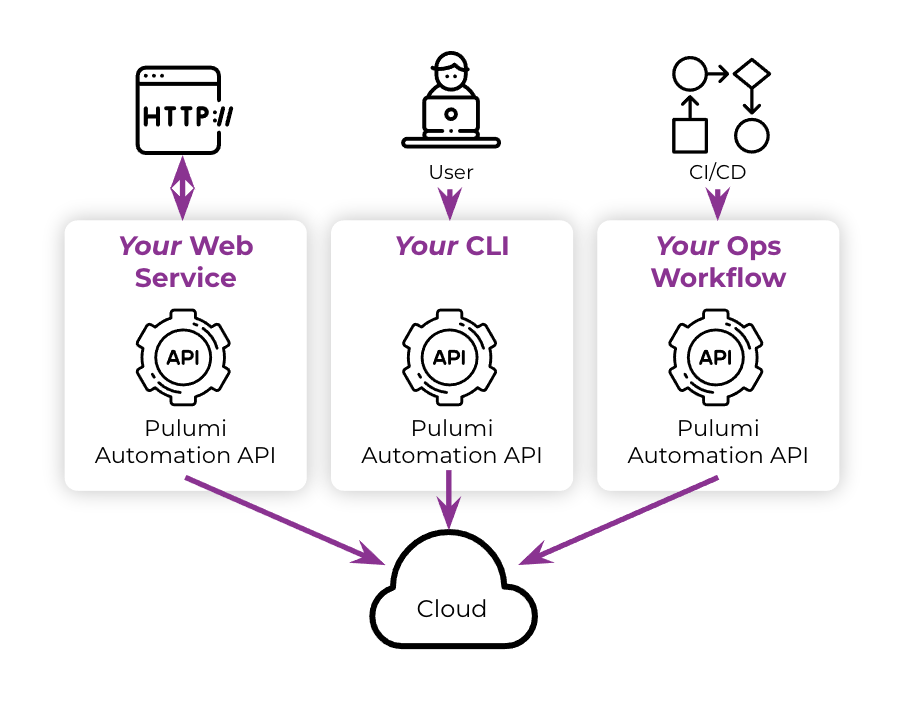 Your Cloud
Program the full surface area of thousands of cloud resource types in public clouds including AWS, Azure, Google Cloud, Kubernetes, and many others.
Your Language
Embed infrastructure as code capabilities into standard programs and libraries, including Node.js (JavaScript, TypeScript), Python, Go, and .NET (C#, F#).
Your Way
Deliver powerful new cloud capabilities any way you want — behind a UI, REST API, internal PaaS, custom library of your own — the sky's the limit.
Pulumi improved our time-to-market by removing cloud infrastructure as a roadblock. Our developers rely on Pulumi to build modern cloud applications, including the underlying infrastructure, using programming languages they understand. This has resulted in faster software delivery, closer collaboration and higher-quality deployments. Every developer is now empowered to move faster and spend more time on developing things that matter to our customers.
Keith Redmond
VP of SaaS Engineering
Get started today
Pulumi is open source and free to get started. Deploy your first stack today.