Fully-managed
Infrastructure as Code platform
Pulumi Cloud is the easiest way to use Pulumi open source at scale. It stores infrastructure state and secrets, provides search and clear visibility into all your clouds, runs remote deployments, integrates with CI/CD pipelines, and enforces policies.
Key capabilities
Manage infrastructure state, secrets, and configuration
Increase productivity and collaboration
Build infrastructure automation that scales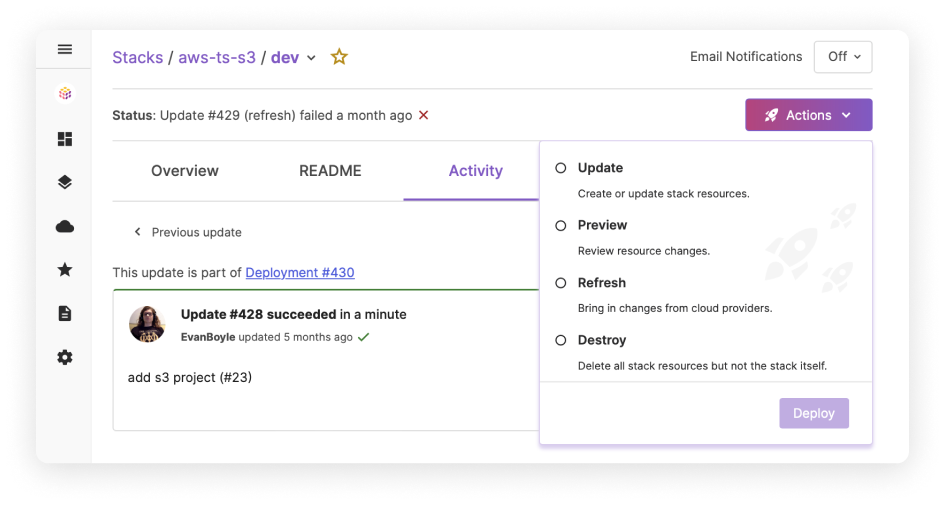 View and search all infrastructure from one place
Set guardrails and access controls
The easiest way to use Pulumi open source
Pulumi Cloud is a managed service for Pulumi's open source CLI and SDK. It tracks your infrastructure's state and coordinates updates with the CLI, which creates or updates resources to reach your infrastructure's desired state.
You can also use any cloud or on-premises storage to build and run your own backend.
Pulumi takes security seriously
Pulumi Cloud runs in an AWS VPC and our architecture follows industry best practices. All network communication is encrypted using TLS and Pulumi's endpoints are only accessible via HTTPS. Your data is also encrypted at-rest and Pulumi is compliant with SOC 2 Type II.
Customers innovating with Pulumi Cloud
Deployment options
SaaS
Use Pulumi Cloud without worrying about scaling, availability, fault tolerance, and concurrency.
Self-hosted
Run Pulumi Cloud in your on-premises or cloud environment and manage it yourself.
Pricing
Pulumi Cloud offers Editions for Individual, Team, Enterprise, and Business Critical. Support is available on Enterprise and Business Critical. You only pay for what you use, and there are free tiers available.
Get started today
Pulumi is open source and free to get started. Deploy your first stack today.