Create, deploy, and manage modern cloud software.
A single workflow for provisioning cloud apps and infrastructure, in any cloud environment, public, private, or hybrid.
CREATE
Familiar languages like TypeScript, JavaScript, Python, and Go. Benefit from abstraction and reuse. Use your favorite IDE, linters, and test frameworks.
DEPLOY
Deploy applications and infrastructure to any cloud with one consistent workflow, fully integrated with your favorite CI system.
MANAGE
Unlock collaboration across your team with package sharing and reuse, and Dev and DevOps policies and management features.
Pulumi SDK
The SDK is an open source tool and framework for defining and deploying cloud apps and infrastructure in code.
Get Started
Many Clouds
Access the full breadth of services in AWS, Azure, GCP, Kubernetes, and more, using shared tools.
Many Languages
Code in TypeScript, JavaScript, Python, and Go, instead of YAML or vendor-specific DSLs.
Open Source
Everything is designed in the open and available on GitHub. Pull Requests welcome!
Great Tools
Be productive with IDEs, syntax highlighting, error checking, and testing. Share and reuse components.
Pulumi for Teams
The Pulumi web console helps teams of all sizes reliably and continuously deliver and manage cloud apps and infrastructure.
Learn More
CI/CD Workflow
Continuously deliver code from your favorite SCM, using your favorite CI system, to the cloud.
History & Auditing
Full history of cloud resource deployments, so you always who changed what, when, and why.
Secrets & Configuration
Manage configuration and secrets reliably in the cloud, with security, auditing, and ACLs.
Organizations & Teams
Collaborate using organizations, projects, and stacks, with full RBAC and policy management.
Pulumi Support and Training
Use Pulumi more effectively within your team. Learn how modernize your tools, organization, and practices based on industry leaders.
Contact Us
Solution Guidance
Access Pulumi's expertise and material for modern cloud engineering, from Kubernetes to continuous delivery.
Slack with the Team
Get direct access to Pulumi customer engineers who can help you out in realtime.
Training Workshops
Hold onsite training for your team -- for Pulumi specifically, or more general modern cloud practices.
Enterprise Grade SLAs
Ensure a guaranteed rapid response to requests for help when you need it the most.
How Pulumi Works
1
Create
Code in modern languages
Share and reuse patterns
Use your favorite IDE and tools
2
Deploy
Preview changes
Run pulumi up to deploy
Integrate with CI/CD
3
Manage
Audit all changes
Manage complex environments
Implement policies and controls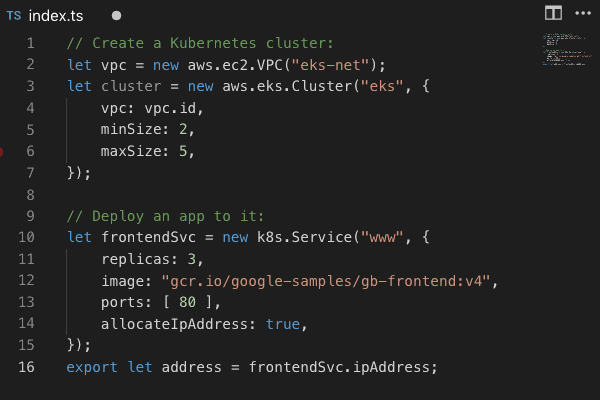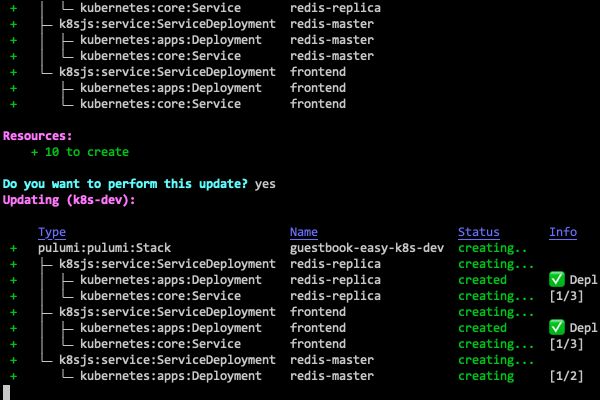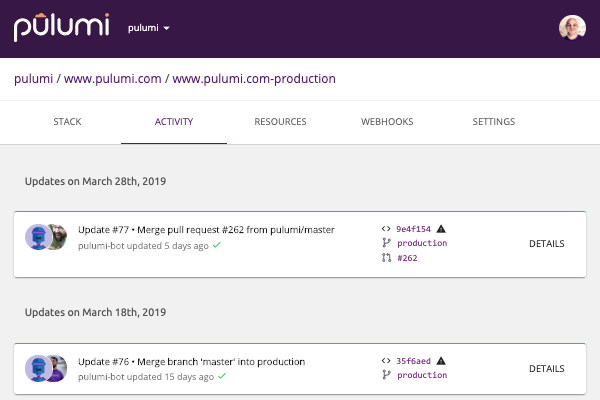 Learn more
Discover our complete set of examples, documentation, and API references.
Learn More
Contact us
Have questions about Pulumi? We're happy to help.
Contact Us
Sign up for our newsletter