Resource Search - AI Assist is Generally Available
Posted on
Pulumi Cloud Resource Search AI assist functionality is now generally available to all organizations! In addition we have shipped some improvements to the feature to make it easier to use and more discoverable: a toggle on the search bar, suggested queries and an "I'm Feeling Lucky" button to generate a random query for you.
See it in action below!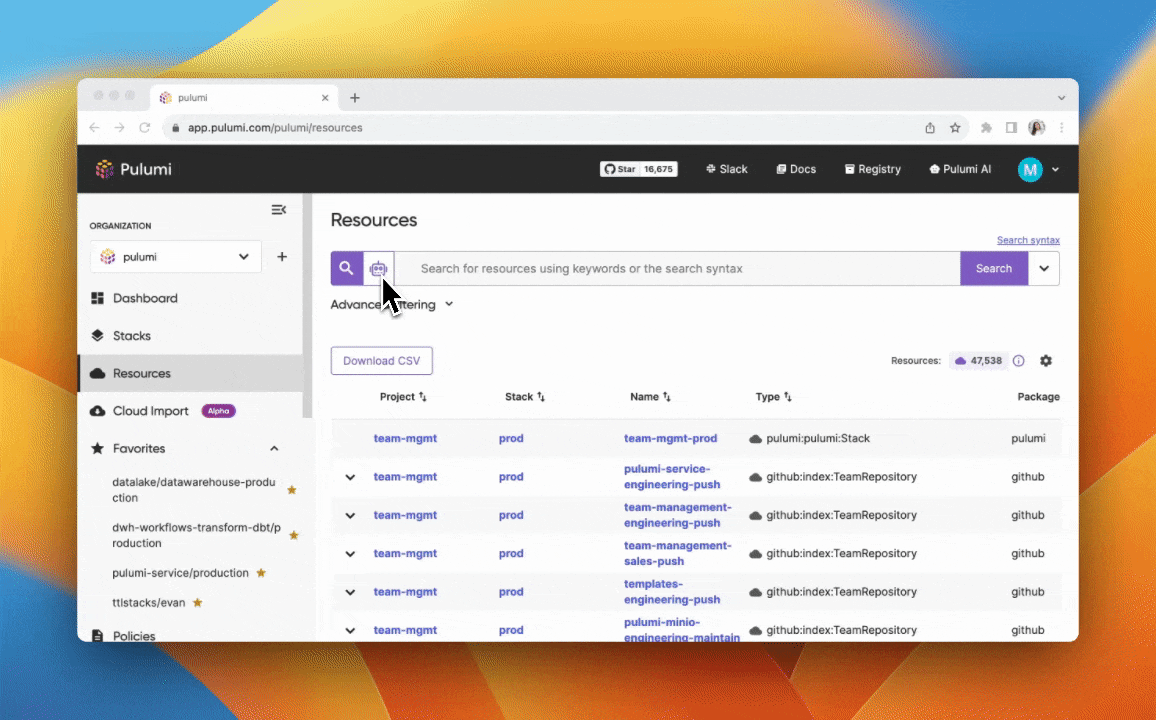 AI Assist is Generally Available
Resource Search AI assist is a way to search your Pulumi organization using natural language. We launched it in a private beta in April this year. Previously only customers who requested private beta access have been able to leverage natural language resource search, starting today customers on any edition of Pulumi Cloud, AI assist is generally available. You can provide a plain English (or Spanish, or French, or Japanese!) request, to express queries where you might not know the exact syntax, type tokens, or package names. AI Assist makes it easier to gain insight over infrastructure, using queries like:
show me all s3 buckets not tagged in production
show azure and azure native security groups
show all AWS VPCs
Suggested Queries and I'm Feeling Lucky
A blank search bar can be intimidating. We now have suggested natural language searches to get you up and running faster. We also added "I'm Feeling Lucky" functionality that generates random queries for you. This can be a good way to quickly understand the types of insights Resource Search can deliver for your organization.
Wrapping Up
As always, submit any feedback on the feature in the Pulumi Cloud Requests repository.