Announcing Support for Email-based Identities
Posted on
We have been hard at work the past few months providing our users with more ways to connect to Pulumi. Here are some our past announcements related to identities:
Today, we are pleased to announce that we are launching support for email-based identities. You no longer need to use a social identity to sign-up for an account on Pulumi. Just fill out the signup form, and you are ready to go.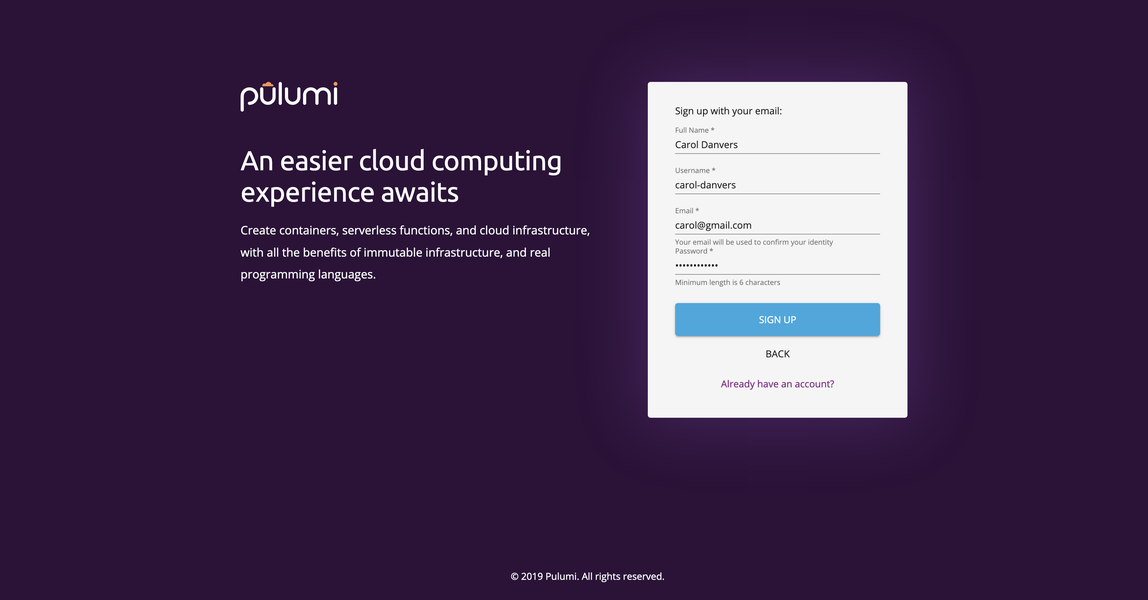 Quickstart
Get started quickly by creating a new template-based project. This creates a project, and a stack ready to be used by the Pulumi CLI. The wizard also shows you the commands you need to run in the CLI.
Haven't setup your CLI for a specific cloud yet? Check out this docs page on how to do that.
Once you've deployed your first stack, the next step is up to you. You can refer to our documentation on integrating Pulumi into your CI/CD pipeline, setting up chat-ops workflows via Webhooks, or taking your Kubernetes solutions to the next level!
We'd love to hear what you're up to. Say 👋 in the Pulumi Community Slack or drop us a line.